Home » MEO-UrbanGreen ENG

MEOSS LAUNCHES MEO-Urbangreen : ITS NEW DECISION-MAKING TOOL FOR CITY MANAGERS AND THEIR DELEGATES !
CONTEXT
For 30 years now, the Earth has faced global warming which is upsetting ecosystems and endangering life on Earth. The urban population is expanding which increase urban infrastructure and air pollution.
is the average temperature difference between urban and rural areas. This difference is commonly called an urban heat island (UHI).
HOW TO IDENTIFY THESE ISLANDS OF HEAT?
MEOSS has created MEO-UrbanGreen, an innovative decision-making tool, based on satellite imagery, for use by local authorities, public developers, business people, etc.
Thanks to its innovative technology, this tool can prioritize actions to be carried out to optimize the greening of urban spaces (hottest areas in summer and less green). Created as a web mapping application, it will help analyse the area by mapping urban heat islands and levels of vegetation through the automated processing of satellite images.
Its various analyzes will:
Prioritize and monitor revegetation actions
The numerous sensors on Earth observation satellites makes it possible to visualize what the human eye cannot see.
The mapping of heat islands is the result of analyses carried out on specific images. On very high resolution images, an algorithm automatically detects herbaceous or tree-like vegetation.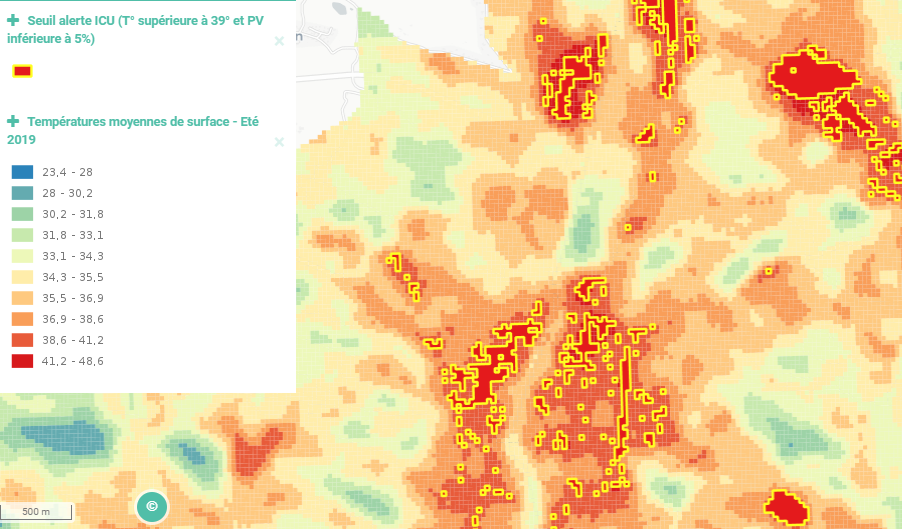 In red, the areas to prioritize for vegetation actions
ADVANTAGES:
+ detect objects precisely
+  data reliability thanks to its stereoscopic images
So, to get to know the places likely to benefit from improvements, we automatically cross-reference data from hot spaces with information concerning places with little vegetation or without green spaces that have a significant potential for vegetation.
Objectives of MEO-UrbanGreen : 
Propose indicators to better assess and understand the heat island phenomenon
Optimize the revegetation of city centers
Precisely measure the impact of re-vegetation campaigns by time-series monitoring
Improve the air quality of a area
Helping government institutions fight climate change
Provide an annual report highlighting the evolution and impact of the re-vegetation actions

In green: low to high density vegetation, in red: heat islands.
The combination of the finesse of this tool and our expertise allows us to offer a quality service that meets your needs. At MEOSS, we use our technical skills to cater in a personalized way by creating suitable tools.